– Joanna Brown and Lionel Sanders headline stellar group that includes five ITU World Champions and Four National Champions – 
October 31, 2017 – Triathlon Ontario, the recognized Provincial governing body of Multisport in Ontario, announced its 2017 annual awards to be celebrated on the evening of December 2nd at Celebration Hall, McMaster University.
Triathlon Ontario's 2017 award winners boast a number of World and National Championship performances such as:
World Champions
Lionel Sanders  – ITU Elite Long Distance
Frank Sorbara  – ITU Age Group Long Distance
Jasmin Aggarwal – ITU Age Group Standard Duathlon
Matt Straatman  – ITU Age Group Standard Duathlon
David Field – ITU Age Group Standard Duathlon
National Champions
Meghan Lamers – Age Group Sprint
Ben Rudson – Age Group Standard
Kate Timms – Age Group Sprint
Michael Hay – Age Group Standard
Coach of the Year
One of the most popular categories for the awards season continues to be Coach of the Year. With dozens of coaches nominated around the province this year's award went to Sheri Fraser (London Triathlon Club). Honourable mention went to Rick Hellard (Zone3 Sports),Mark Linesman (LPC Triathlon Club), Mat Reid (Fighting Koalas Triathlon Club), Scott Mallory (London Triathlon Club) and Sheryl Ross (Tornadoes Triathlon Club).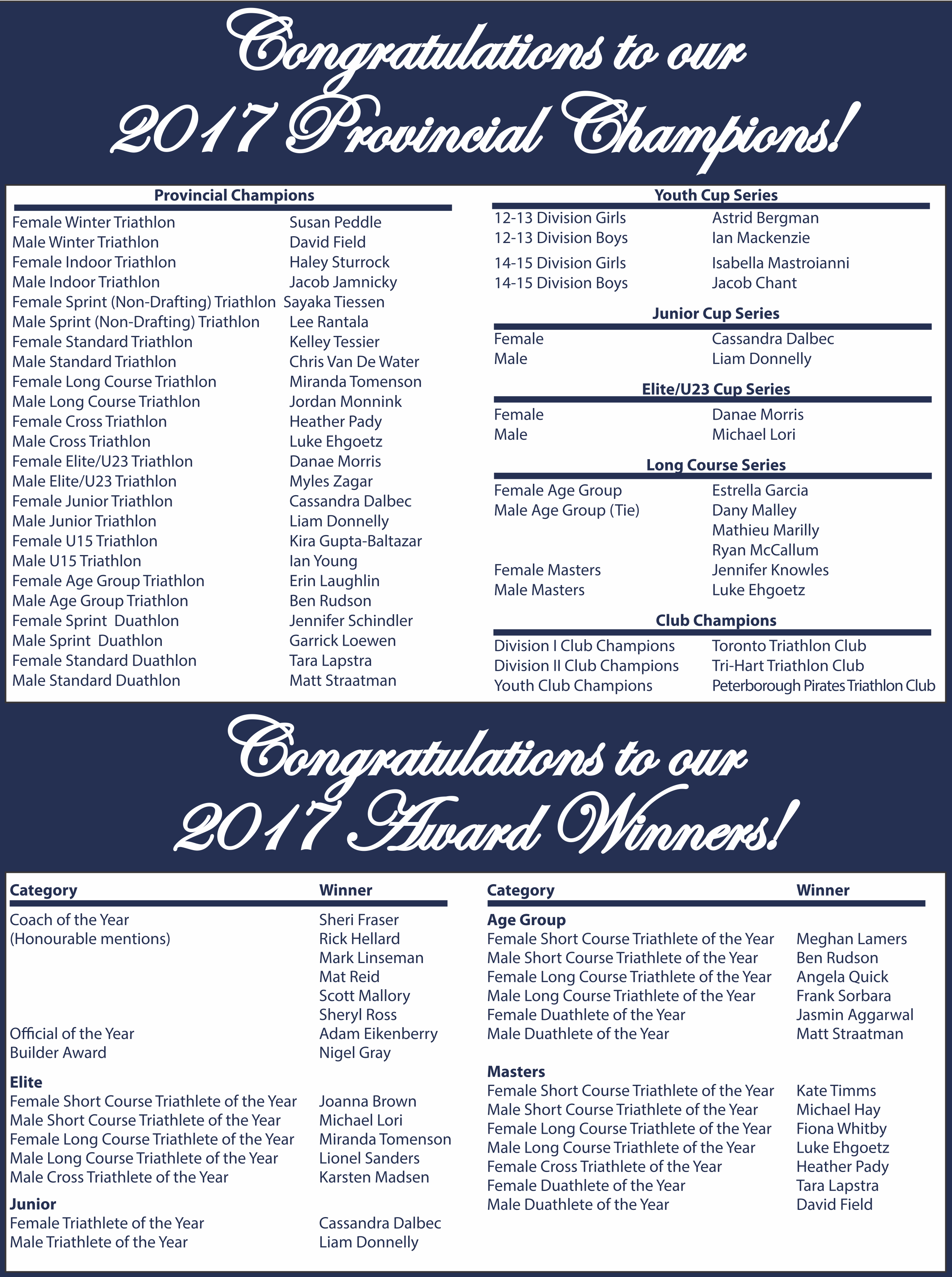 ?About Triathlon Ontario
Triathlon Ontario is a non-profit organization that is the recognized Provincial Governing Body for Multisport in the province of Ontario. Our mission is to provide leadership and governance for the development of a safe and fair environment for Multisport in Ontario.
Triathlon Ontario oversees the sanctioning of races and clubs and undertakes a number of duties and responsibilities on behalf of athletes at every level, coaches, clubs, officials and race directors to ensure the growth and development of the sport in a fun and safe way.
For more information please visit: .
Follow us on Twitter: @TriOntario
Like us on Facebook: www.facebook.com/TriathlonOntario